Macadamia Oil (1L)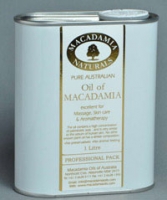 Save $3500 a litre on beauty products!
The multi-million dollar beauty industry works hard to keep their magic ingredients secret. So we may have to kill you if you read further!
Cosmetic grade macadamia oil is the secret ingredient in most anti-aging products.
This oil comes from the exact same factory where cosmetic giants and the most exclusive day spas in the world buy their oil.
This oil is so affordable everyone can look their best every day.
CLEARANCE SALE! Only $15

...or get two for $22 !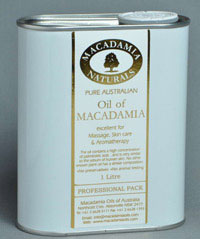 Wouldn't it be nice if we could all afford to use the same top quality skin products that the likes of Julia Roberts and Catherine, Duchess of Cambridge are able to enjoy every day? It would be wonderful if we could all have the glowing, flawless skin and glossy hair just like in the magazines – but we can now let you in on a little secret.
Gorgeous celebrities all over the world are being ripped off!
It's true! You don't need to spend a fortune on Lancome and Dior for fantastic skin. All you need is good old Aussie macadamia oil. Because you know what? Macadamia oil is the magic ingredient in all the best beauty products you will find in today's market – but they list it as vegetable oil. Why? Quite simply, so they can charge more for their swanky products when the truth is, macadamia oil is as cheap as chips.
90% of all macadamia oil made goes to the beauty industry.
It is bought by huge cosmetics companies, who put it in their products and charge us $3500 per litre for their anti-aging products. (I even found one anti-aging serum for $13,666 per litre.) The cosmetic giants know that Macadamia oil is brilliant for dry, damaged skin. They know that Macadamia oil can slow down and even remove the effects of ageing on your skin. But we know something too!
You can buy the same stuff yourself for $20!
You read right, you can save $3500 a litre on highest quality skincare products by simply buying the oil yourself. This actual oil is bought by the most exclusive day spas all over the world. Byron at Byron. Daydream Island, even Raffles in the Seychelles, where Prince William and Kate went for their honeymoon. They all use it because they know it's the best. And we happen to stock it!
So what's so good about macadamia oil?
The macadamia oil we're talking about is cosmetic grade. It isn't the same as the stuff we eat; it has had the wax removed so it absorbs faster into the skin. Macadamia nut oil contains palmitoleic acid, which contains many great anti-ageing compounds. Macadamia nut oil is light, fragrance-free and not greasy, making it a great oil for the skin, and especially the face. When used regularly on the skin, macadamia nut oil can soften, moisturise and even add a glow to dry or damaged skin. Macadamia is an excellent protective oil that protects and heals skin blemishes such as scars, sunburn, minor wounds and other irritations. It really is a beautiful skin product.
Here is what A Current Affair have to say about it
What else can it be used for?
With its light, non-greasy texture, macadamia oil is a brilliant treatment for hair and contains vitamins and minerals which are ideal for nourishing dry hair. When you use macadamia oil in your hair you will notice less amounts of dandruff, increased silkiness and shine and your hair may even grow faster! While macadamia nut oil is most often used as a type of conditioner for hair, and therefore is washed out after application, it is light enough to leave in without leaving hair greasy or weighed down.
Macadamia oil also makes a great nail treatment. Using a small amount of macadamia nut oil can soften these cuticles and prevent tearing. Massaging it into the nail bed and fingertips once a week can result in stronger, healthier nails.
You can also use it as a:
Massage/carrier oil (macadamia oil has a shelf life of one year so it is longer lasting than other oils such as grapeseed which goes rancid very quickly)
Moisturiser
Make-up remover (including eye make-up)
Natural baby oil
Hair treatment
Head to toe beauty for just $20!
If it's good enough for Kate and Julia, it's good enough for the rest of us!
If you would like to try some Macadamia Oil, but you don't want an entire litre. We have some cute 150ml squirty bottles. These bottles are nice because they look good, they are easy to use and they are refillable.
1. I'll give it a go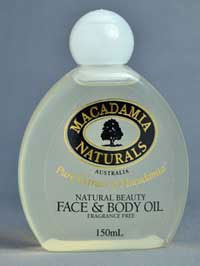 Our cute squirty bottle is a great way to give Macadamia Oil a try for yourself. At 150ml, it is ready to use without the worry of storing or decanting.
To order one, just click the "Add to Basket" button below.
The prices are:-
Non-members pay $14.00 plus postage.
Simple Savings Members pay $13.00 plus postage.
The price you will be charged is $14.00.
2. I want the best price
If you want a better deal or would like to make your own beauty products using this luxurious oil, you can buy a 1 litre can of Macadamia Oil and enjoy the larger savings!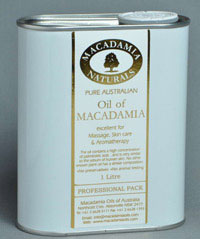 To order this package click the "Add to Basket" button below.
The prices are:-
CLEARANCE SALE! Only $15
(reduced from $20)